Kit deteksi PCR virus Pseudorabies (gB)
Virus Pseudorabies virus (gB) Kit Deteksi PCR (Lyophilized)
48 tes / kit, 50 tes / kit
Kit iki nggunakake metode PCR neon wektu nyata kanggo ndeteksi RNA virus Pseudorabies (gB gene) (PRV) ing bahan penyakit jaringan kayata amandel, kelenjar getah bening lan limpa lan bahan penyakit cair kayata vaksin lan getih babi. Cocog kanggo deteksi, diagnosis lan investigasi epidemiologis saka virus Pseudorabies (gen gB). Kit kasebut minangka SISTEM PCR SADAYAN (Lyophilized), sing ngemot enzim amplifikasi DNA, buffer reaksi, primer khusus lan probe sing dibutuhake kanggo ndeteksi fluorescent RT-PCR.
Komponen
Paket
spesifikasi
Bahan-bahan

Campuran PCR PRV

Botol 1 × (bubuk Lyophilized)

 

Tes 50

dNTPs, MgCl2, Dhasar

, Probe, polimerase DNA Taq

6 × 0,2 ml tabung 8-strip

(Lyophilized)

48 Tes

Kontrol Positif

Tabung 1 * 0,2 ml (limofilisasi)

 

10 Tes

Plasmid utawa Pseudovirus ngemot fragmen spesifik PRV (gB)

Solusi mbubarake

1,5 ml Cryotube

500uL

/

Kontrol Negatif

1,5 ml Cryotube

200uL

0,9% NaCl
Panyimpenan & Umur Beting

(1) Kit kasebut bisa diangkut kanthi suhu ruangan.
(2) Umur rak 18 wulan ing -20 ℃ lan 12 wulan 2 ℃ ~ 30 ℃.
(3) Deleng label ing kit kanggo tanggal produksi lan tanggal kadaluwarsa.
(4) Reagen versi bubuk lyophilized kudu disimpen ing -20 ℃ sawise pembubaran lan pembekuan sing diulangi --thaw kudu kurang saka 4 kali.
GENECHECKER UF-150, instrumen PCR fluoresensi nyata UF-300.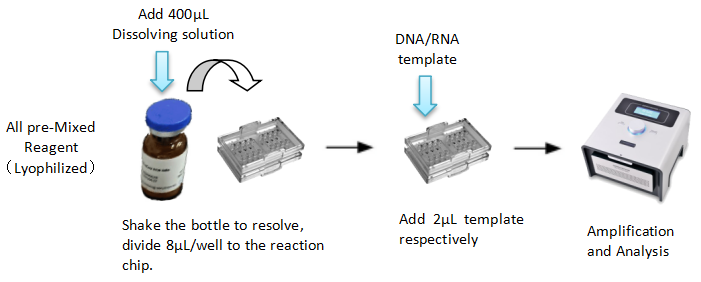 b) 8 versi tabung sing apik: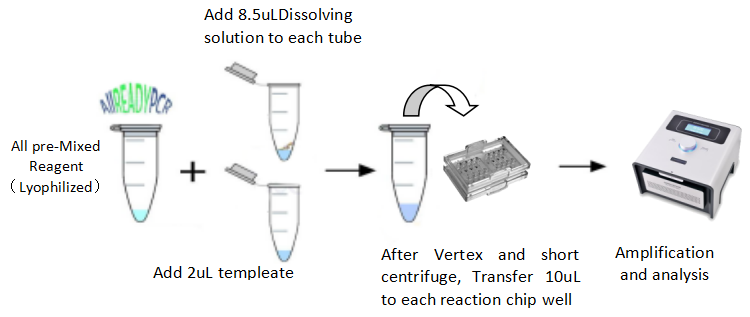 Pengaturan sing Disaranake
Langkah

Siklus

Suhu (℃)

Wektu

Saluran fluoresensi

1

1

95

2menit

/

2

40

95

5s

/

60

10s

Nglumpukake fluoresensi FAM
* Cathetan: Sinyal saluran fluoresensi FAM bakal diklumpukake ing 60 ℃.
Saluran

Interpretasi asil

Saluran FAM

Ct≤35

PRV (gB) Positif

Undet

PRV (gB) Negatif

35<Ct≤40

Suspicious resut, retest*
*If the retest result of FAM channel has a Ct value ≤40 and shows typical "S" shape amplification curve, the result is interpreted as positive, otherwise it is negative.
---
---